Additional Phoenix Film News: Dursleys Return, Ameila Bones, Dawlish Parts Cast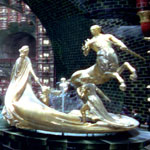 Feb 10, 2006
Uncategorized
CBBC Newsround reports some additional casting news for the upcoming Harry Potter and the Order of the Phoenix film. New cast members include Sian Thomas (Vanity Fair) as Department of Magical Law Enforcement Head Ameila Bones. Sian Thomas is currently filming a new movie with Alan Rickman (Snape) called Perfume. Newsround also reports that " Auror Dawlish will be played by Richard Leaf, and Nick Shim has been cast as Zacharias Smith."
Many fans will also be happy to learn that yes, there is confirmation that the Dursleys will be back for Film Five, and "Jason Boyd will play Piers Polkiss, and Richard Macklin will play Malcolm. " The article also says that young Wormtail will played by Charles Hughes. He joins Susie Shinner (previously rumored across fandom and noted as accurate here) as young Lily, and Robbie Jarvis as young James as they will appear in the Pensieve scene, where Harry sees what his parents and their friends were like at Hogwarts.
Update: With all of these casting announcements, it can be hard to keep track of who is who for the new Potter film. Here then, is a list of what we have so far:
Imelda Staunton as Delores Umbridge
George Harris as Kingsley Shacklebolt
Evanna Lynch as Luna Lovegood
Helen McCrory as Bellatrix Lestrange
Natalia Tena as Tonks
Kathryn Hunter as Arabella Figg
Sian Thomas as Amelia Bones
Richard Leaf as Dawlish
Nick Shim as Zacharias Smith
Jason Boyds as Piers Polkiss
Richard Macklin as Malcolm
Michael Wildman as Magorian
Robbie Jarvis as Young James Potter
Susie Shinner as Young Lily Evans
Charles Hughes as Young Peter Pettigrew (Wormtail)
Update #2: Thanks to Redflu.com you can see a photo of Richard Leaf (Dawlish) here.