Book Aid Auction Catalogue Online; No Additional JKR Material Shown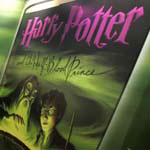 Feb 18, 2006
Uncategorized
For the past few weeks we have been telling you about the upcoming charity auction for Book Aid International that will feature a new piece of work from Harry Potter author J.K. Rowling depicting the Black Family Tree. This auction will be held this week on Tuesday, February 21st, in London, England. Bloomsbury Auctions have now posted the entire catalogue of donated works online (PDF), but alas, it DOES NOT show any new information, nor most of the sketch. Readers will certainly remember however, that tantalizing portions of this family tree containing new bits of information from Sirius Black's family have already appeared in a newspaper, which you can see here, or the typed out version, here. While this sketch will go on display Monday night in London before the auction the next day, the demand to see this entire tree has been quite high. The Times reports:
Rowling has submitted a family tree of The Noble and Most Ancient House of Black, leading Harry Potter fansites to speculate about its contents. Sara Harrity, of Book Aid International, which sends more than half a million books and journals each year to 18 countries, said: "We were amazed to have received correspondence from people pleading for us to publish the family tree in full. One man wrote to us from Spain on behalf of 'Harry Potter fans everywhere'. For obvious reasons we want to keep it under wraps, as the piece is for the successful bidder.â€
If anyone is attending this preview on Monday, please send in your reports, info, and pictures!