Full "House of Black" Family Tree from JKR on Display Tonight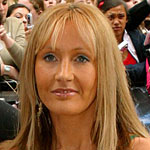 Feb 20, 2006
Uncategorized
As we have been telling you for the past couple of weeks now, Harry Potter author J.K. Rowling has donated a special piece of work for a charity auction to benefit Book Aid International. A preview of these items was held tonight in London, and included the full rendition of Jo's" Noble and Most Ancient House of Black" donation, or the Black Family Tree that we learned about in Harry Potter in the Order of the Phoenix (see the earlier scans of it here, and here). TLC reader Aberforth was fortunate enough to attend this preview, and has let us know about some of the interesting tidbits he saw. First, there were seven "burn" holes where names had been erased off of the tapestry or family tree. Aberforth was able to write down what he learned:
This info has been removed until the auction is completed. Thanks!
1 (Phineus' youngest sibling) Isla Black, who 'married muggle Bob Hitchens'.
2 (Phineus' 2nd child) another Phineus, who 'supported muggle rights'
3 (Dorea's brother) Marius, 'a squib'. That really cut me up, it's hard to explain, what a life for him – not!
4 This you'll love: Callidora and Charis' sister: Cedrella, who 'married Septimus Weasley'. She'd have been born around 1918, so Septimus is probably an uncle of Arthur, and of course a 7th son. She was struck off just for marrying a blood traitor Weasley.
5 Alphard, who 'gave gold to his runaway nephew'
6 Sirius, who 'ran away'
7 Andromeda, who 'married muggle Ted Tonks'
Our partner The Lexicon have now posted more of this here which is chock full of interesting tidbits. Enjoy! The auction for this and all the donated items will take place tomorrow in London. A special Thank you to Aberforth for the wonderful news and to the Lexicon!