Scholastic Harry Potter "Wednesdays" Sweepstakes Coming March 1st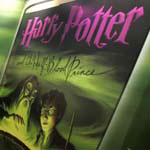 Feb 23, 2006
Uncategorized
Scholastic, the US publishers of the Harry Potter novels, announced today that a brand new sweepstakes is coming in a build up to the release of the paperback version of Harry Potter and the Half-Blood Prince. Starting March 1, and continuing on for the next six Wednesdays, there will be an online sweepstakes open at Scholastic.com/Harry Potter to win the Grand Prize of the special Harry Potter Ipod, which features the Hogwarts crest engraved on the back. This prize also will include " all six downloadable audiobooks from the iTunes® Music Store, plus a copy of the Deluxe U.S. edition of Harry Potter and the Half-Blood Prince with a bookplate signed by author J.K. Rowling." Further details include:
"Every Wednesday, fans can take part in the weekly online poll, one for each of the books published to date. Each week the poll will contain a different printable Harry Potter book cover to be pasted onto a downloadable entry form. After all six Harry Potter covers have been collected, the entry form can be mailed in for a chance to win fabulous prizes. Just for entering, every participant will receive a Harry Potter bookmark. All complete entries must be received by April 24th, 2006 and winners will be announced at www.scholastic.com/harrypotter on May 1st, 2006."
There will also be six First Prize Winners which include a boxed set of all of the hardback editions of the Harry Potter novels. The website will feature " monthly installments on each of the six Harry Potter books, plus an exclusive Harry Potter desktop wallpaper and a new printable Harry Potter poster." You can see Book One downloads already via this link. The paperback edition of Half-Blood Prince will be released here in the US this summer on July 25, with an initial print run of two million copies, featuring 672 pages and retail for $9.99. Again, this contest starts on Wednesday, March 1st. Good luck!