Harry Potter and the Goblet of Fire DVD Now Available for Pre-Order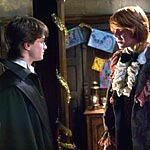 Feb 03, 2006
Uncategorized
Harry Potter and the Goblet of Fire is now available for pre-order from Amazon in the US, for widescreen, while the links are up but the items are not yet available for pre-order from widescreen deluxe, full screen and four-movie gift set. We're sure they'll be available for order shortly.
See an Amazon-exclusive clip of the DVD, talking about the effects, specifically in the maze: high bandwidth, low bandwidth.
You can also get it at Barnes & Noble, in deluxe, full screen, widescreen, for PSP, and four-year special set.
You can also find links to all of these DVDs and more at our Cauldron Shop. Thanks to those who mailed!