J.K. Rowling Writes About Her Experiences in Romania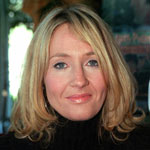 Feb 05, 2006
Uncategorized
Today's Sunday Times in Britain features an article written by J.K. Rowling in which our favorite author chronicles her efforts to end cage beds in east European mental hospitals. In the piece, Jo describes the article that originally sparked her involvement in this cause, the letter-writing campaign she initiated, her decision to become involved with the Children's High Level Group and her recent fund-raising trip to Romania. Here is just a snippet:
One of my first thoughts, when I finished reading that initial article by Justin Sparks, was "why didn't I know about this? How could I not know about it?" I had momentarily forgotten that human suffering, however dreadful and on however wide a scale, will always go ignored and unheard unless somebody is prepared to shout about it, and others are ready to act. It is phenomenally easy both to hide and to silence children once separated from their families. They are small and portable, their language skills aren't great, they don't have lawyers and they aren't registered to vote. Abandoned, neglected, caged or trafficked, these children were intended by nature to be protected by their parents. Now it is somebody else's job –partly, mine.
Donations can be made to the Children's High Level Group by sending a check (payable to Children's High Level Group) to:
Children's High Level Group
c/o Baroness Nicholson of Winterbourne MEP, The House of Lords
2 Millbank, London SW1A 0PW
Or, you can donate directly into bank account number 12370200, sort code 15-99-00 (C Hoare & Co).
For further information e-mail the baronness directly.