New Interview with Spanish HP Illustrator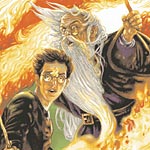 Feb 08, 2006
Uncategorized
Spanish HP site RedFlu.com has translated its recent interview with the Spanish Harry Potter Illustrator, Dolores Aavedaãno for us, which you can read below. Thanks, Martin!
This is a preview: the rest is here.
This interview has been translated, so there may be some errors.
How many time do you spend making the ilustration of the cover?
Without counting the time that the publishing spends in accepting a sketch or the part of the colour, I spend a week or a week and a half. During that time, I'm not constantly working on the cover. That time includes moments of moving away of the picture so I will be able to watch it in a more objective way.
How do you think the last book will be? Would you wish that the book was published and illustrated soon, or would you prefer to wait because everything would finish too fast?
It wouldn't be very soon for me. I have worked in Harry Potter covers since '97 or '98 (I can't remember now). Anyway I will be sorry when it finished. It's the same when someone reads a good book, you want to finish it, but you are sorry when you finish it. And I sincerely don't know how the last book will be.
What is the best thing about being Harry Potter illustrator, and the worst, if there is any?
In the first place, the best is that it is a job I enjoy very much! I have already enjoyed it before it was a famous book. And on the other hand, thanks to the interviews that they have made me, I could get sponsors for my [work].
Which other book would you like to illustrate?
A film I have seen when I was younger, which was based in a fairy tales: Ruso, Rufflan and Ludmila.
What can you tell us about the book which was written and ilustrated by yourself about a run in the Sahara?
I am working in it yet. I would love it would be published this year!
Gastón Galante (14 years) from Argentina asks: Do yo