Update on "Order of the Phoenix"; Grawp, Centaurs Filmed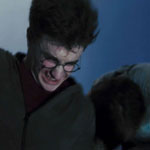 Mar 14, 2006
Uncategorized
At last night's Empire Film Awards, film producer David Heyman gave some nice new information about the progress of filming on Harry Potter and the Order of the Phoenix. Indicating that " Harry will not be just a petulant teen in the film version," Mr. Heyman was very positive about the adaptation of Book Five, and noted that Jo had seen the script earlier and said she was "very happy with it." He went on to give an update on what they have filmed already for Phoenix since begining production last month.
" We've done a little bit of action so far. We've done some stuff involving centaurs and Grawp, who is Hagrid's 16ft brother. The kids have to act against a lot of blue screen for characters like Grawp, but thankfully they're used to that by now."
The article also contains some new quotes from actor Daniel Radcliffe about his role as Harry, as well as his thoughts on Book Five which he says is one of his favorite from the series. There are additional quotes from Dan and Rupert Grint (Ron) on working with new film director David Yates, with Rupert noting "… He's a bit calmer, and he doesn't really get stressed out at all, and he's just a really nice bloke.†Actor Jason Isaacs has a funny answer about whether he will be returning to the role of Lucius Malfoy in Film Five as well, saying " I can't bear the idea that somebody else would get to wear my Paris Hilton wig, but you never know."
Finally, the filming scheduled for the new movie was also revealed: " We're actually shooting until the middle of May,†said Heyman, "and then we break up for two months so the kids can do exams. Then we pick up in July and we shoot until October or November. " Harry Potter and the Order of the Phoenix is due to be released in 2007.
Update: Dan has also said in an interview with BBC Radio1 that he will be filming the kiss between Harry and Cho later today. Quotage:
"It'll be odd because one of my parents will be on set. It will be embarrassing but hopefully I'll work past that and be utterly professional but I'll probably keep screwing it up so that I can keep doing it."