New Profile of Order of the Phoenix Film Director David Yates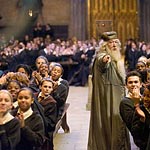 Mar 19, 2006
Uncategorized
"Imaging spending your working day amongst tetchy elves, moody teenagers, and an evil lord trying to take over the world…†Thus begins a profile of new Order of the Phoenix film director David Yates that was featured in a magazine from his hometown of St. Helens, England. This article gives us new information and background about the man who is taking the helm on Potter Five, revealing that that David once lived here in the US in Washington D.C. for a full year before returning to school at the National Film and Television School in London. We also learn that it was film great Steven Spielberg who inspired David to pursue his career in motion pictures. David began directing at the age of 14, and has since gone on to achieve acclaim in the UK, notably winning recognition for his work on the BBC political drama "State of Play†, which earned the "Outstanding Directorial Achievement in a Television Movie/Serial" award from the Directors Guild of Great Britain.
As for the work on the fifth Harry Potter film, the article mentions very little other than this short recap on the plot:
Harry Potter and the Order of the Phoenix sees the boy wizard struggling with life at school after the rise of Lord Voldemort once again. With their concerns of the dark uprising falling upon deaf ears at the Ministry of Magic, Harry and his pals feel they need to take their protection into their own hands. But as he reaches his mid-teens, Harry becomes a somewhat moody teenager who has to contend with not just with the worrying developments among Lord Voldemort's supporters, but also his feelings for his growing crush on pretty classmate Cho Chang.
The feature also briefly mentions new cast members Imelda Staunton (Umbridge) and Evanna Lynnch (Luna) as having been cast in the new Potter movie, and says that the "film has been penciled in to be released in the summer of 2007.†You can see the scans of the entire article in our galleries via this link. Harry Potter and the Order of the Phoenix is currently in production in the UK. Thanks very much to Catherine for the scans!