The Harry Potter Collectibles Contest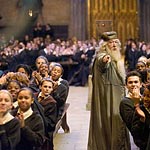 Mar 02, 2006
Uncategorized
We're very proud to present our next sweepstakes, the Harry Potter Collectibles Contest!
As you all know, the DVD of "Harry Potter and the Goblet of Fire" hits stores Tuesday in the U.S., and we've got a brand new contest associated with it – enter the Harry Potter Collectibles Contest and you can win a $300 gift certificate to use on Noble Collection items! This contest is open to readers over 13 years old who live in the U.S.; see our contest page page for more.
And to stem the tide of questions: the results of our Goblet of Fire movie giveaway contest are coming soon – just in time for the DVD! It's all planned, see?
To see the kind of items these gift certificates could be used for, check out the collectibles section of The Cauldron Shop – if it's made by Noble, it's up for grabs!