Newsround Video: New Trio Interviews, Info on Phoenix Filming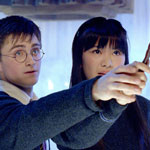 Mar 21, 2006
Uncategorized
CBBC Newsround has now posted some great video from today's update on filming for the Order of the Phoenix film. This video was shot on the Harry Potter set at Leavesden studios in London in conjunction with the release of the Goblet of Fire DVD in the UK, and includes new interviews with actors Daniel Radcliffe, Emma Watson, Rupert Grint, and Katie Leung. Film producer David Heyman also gives some further news about the progress of the fifth film, saying they just filmed the scene where Umbridge is carried off by the Centaurs, and they also filmed scenes with "the fireworks" (Yay for Fred and George!). Emma Watson (Hermione) discusses filming scenes in the Room of Requirement, and Dumbledore's Army. Finally, there is a cute part with Katie (Cho Chang) discussing filming the kissing scene with Dan, which was postponed due to Dan being sick with the flu.
Lizo from Newsround spoke with David Heyman as well about the possible release dates for the Order of the Phoenix film, and Mr. Heyman indicates that he prefers the winter, but that the release date is still undecided. Mr. Heyman also says Film 6 (Half-Blood Prince) is to come in "Fall 2008." To watch this entire interview, click on this link, then again up on the right side where it says "Watch Newsround." You will then have to select today's date, March 21, to get the video. The interview with Lizo starts about midway. Anyone with screen captures or video capture, please send it in! Enjoy!
Direct Link to Lizo's Interview Here
Update: Lizo let us know the following for those having trouble seeing the video:
Direct Link : http://www.bbc.co.uk/cbbc/newsround1/rams/bb/cn_potterdvd_4x3_bb.asx

If that doesn't work, go to

http://news.bbc.co.uk/cbbcnews/hi/newsid_481 0000/newsid_4817800/4817860.stm

Then click on 'launch newsround player' on the right hand side. Then click on the settings tab at the bottom of the screen to select real player or windows media and your speed. Then – click on the 'interviews tab' and select the file 'Exclusive! Potter stars.