ArtInsights Releases Exclusive Movie Artwork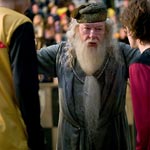 Mar 23, 2006
Uncategorized
ArtInsights.com now has available new official Harry Potter pieces from artist Jim Salvati. The works are currently on sale, and four versions of them can be seen in our gallery right here.
The artwork of the Goblet maze, the Hogwarts Express, and Hogwarts castle are on sale for $225 on paper and $550 on canvas; the Horntail Dragon picture is $175 for a version on paper.
Mr. Salvati will also do commissions, so whatever scene from the series you'd like to have drawn, and you can afford to spend between $4,000 and $10,000 for the piece, he'll create it. He has worked for Disney and WB for 20 years.