Richard Griffiths Talks Uncle Vernon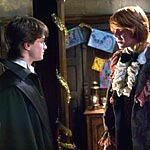 Mar 06, 2006
Uncategorized
While in New Zealand touring recently with a stage production of The History Boys, actor Richard Griffiths gave a new interview where he discussed his role as Uncle Vernon in the Harry Potter films. Speaking with a reporter from The Dominion Post , he reflected on what it was like to take on the role of Harry's unpleasant relative.
"When they asked me to audition I told them I was more nervous than for anything I'd done previously. I just knew it was going to be humungous, it wasgoing to be major. I knew whoever played Vernon had to tread a really fine line between being a nasty uncle and a child abuser."
Mr. Griffiths , who is returning to the part of Uncle Vernon in the upcoming Order of the Phoenix, went on to say how much he relishes playing the role. He said he even spoke to Harry Potter author J.K. Rowling about his place in the future Potter films.
"Last time I saw her was at the premiere of the third film and I said to her `Don't you think it would be funny if (he) rolled up at Hogwarts on Parents Day and got freaked out as he went around the place? She said `No, I don't think that would be funny at all'. But I'll do anything to extend my presence in the film."