PotterCast #34 Available for Download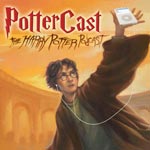 Apr 11, 2006
Uncategorized
PotterCast #34, the first part of our call-in show from this weekend, is now available for download! First, a reminder: Our impersonations contest is still going on, and at stake is $30 at The Cauldron Shop. For more, click here.
In this show:
-It's our second PotterCast Call-In Show – one of our next two shows, in this episode we take all your questions during a live call-in session on Skype that nearly broke all our computers.
-Chris Rankin joins halfway through (and will next time, too)
-Special wizarding wedding traditions
-First caller beats john
-Which scenes would be the worst to cut from Order of the Phoenix?
-How to spell Horcri
-WOMBATs revisited
-More Evanna Lynch talk
-The meaning of phoenix song in book four
-Favorite magical pets
-Thoughts on the book seven release date
-A plug for Totally LOST
-Can Muggles Floo?

Running Time: 40:49
If you are new to all this podcasting stuff, it's really easy: download and install iTunes, then click here to listen. Everything else is at PotterCast.com – you can also direct download it here, and discussion of the PotterCast is right here. Have fun!