Radcliffe, Rickman, Spall in New Wright Exhibit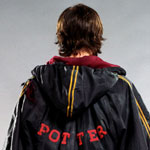 Apr 12, 2006
Uncategorized
Daniel Radcliffe has been featured at the Britain National Portrait Gallery, and will become the youngest person other than members of the British royal family to have an individual portrait there, when Stuart Pearson Wright's new exhibition opens at the famous London gallery.
Stuart Pearson Wright has drawn Jo Rowling several times, most notably in the recent portrait unveiled at the National Gallery; he has captured Radcliffe "wearing jeans and a T-shirt and looking thoughtful in an armchair in his studio, two years ago," says the Daily Telegraph.
"It's very weird. It's fantastic. It's a very, very strange feeling," the young actor said of the portrait.

"It's a great honour to be in there among such amazing actors and actresses."
Radcliffe posed three or four times over 14 to 15 hours. The portrait will be displayed alongside nine other actor portraits, including ones of Alan Rickman and Timothy Spall (Severus Snape and Wormtail, respectively).
Our image manager Mary has found and uploaded pics in hi-resolution. Enjoy!