PotterCast 36: Quite the Conundrum, Now Online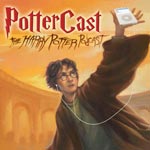 Apr 24, 2006
PotterCast #36, Quite the Conundrum, in which we unveil a new segment and play your feedback, is live.
In this show:
-John has done the dance dance – get it at LeakyNews.com
-Our new segment, Canon Conundrums, goes live with Lexicon Guru Steve Vander Ark; each week we'll rip apart one book issue/problem/concern, etc. Up this week, the chess match and its relevance in the rest of the series.
-Melissa's health podcast, FittingItIn, is live (iTunes here)
-Sue checks to find out what she posted on our mobile site while on the run
-Less than 100 days to Lumos! Have you emailed your RSVP?
-Adoration and worship of the bad boys in the Harry Potter series and the women who love them (next, on FOX…)
-Your chess match voicemails scattered throughout the show
-The French get the film first! Australia gets the film three years later!
-Edinburgh scoop: Jo's evil look at the Aberforth question
-John nags Melissa about his essay
-Melissa cries (sniff!) to guilt John
-One hundred billion dollars
-Bellatrix as a loose canon
-Steve takes the HP IQ Quiz and shares his results
-Mr. Blood returns
-The patronii of some canon characters
-Hermione, sometimes blind?
–Webby reminder!
-Send in your voicemails about who was in Godric's Hollow the night that Voldemort tried to kill Harry; that's up next on Canon Conundrums and therefore is your next voicemail challenge!


Running time: 1:27:31
If you are new to all this podcasting stuff, it's really easy: download and install iTunes, then click here to listen. Everything else is at PotterCast.com – you can also direct download it here, and discussion of the PotterCast is right here. Enjoy!