More JKR Reading Ticket Info; Age Requirement for Children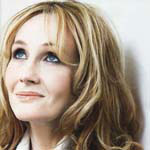 May 11, 2006
Uncategorized
We have some additional important information about the tickets for the upcoming JKR, Stephen King, and John Irving charity reading event in August. If you are considering taking your children to this event, according to the event FAQ, they "must be 8 years of age or older, no exceptions." Also, there will be "surprise guests; and an audience question and answer session. Ticket buyers will have the opportunity to submit a question for the authors via email." There is also a limited amount of VIP $1,000 "Family Packages" available that will get you four premium orchestra seats, and a set of three signed books- one from each author. You can order tickets online via Ticketmaster starting at 10am. Here are some prices for those who are considering attending:
Prime Orchestra: $100.00

Side/Rear Orchestra: $75.00

First Mezzanine (Front): $100.00

First Mezzanine (Rear): $50.00

Second Mezzanine: $25.00

Third Mezzanine: $12.50

(Radio City and Ticketmaster surcharges will be applied)
Additional information is available via this fact sheet (pdf).This event will be held on Aug 1 and 2, with proceeds to benefit the Haven Foundation and Doctors without Borders. Thanks Heather!