Rupert Grint, Phelps Twins In Celebrity Football Tournament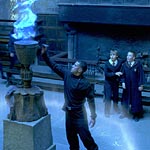 May 11, 2006
Uncategorized
Actors Rupert Grint (Ron Weasley) and James and Oliver Phelps (Fred and George) are set to be in a celebrity football (soccer) tournament this weekend in the UK. 160 celebrities are taking part in Celebrity World Cup Soccer Six to be held this weekend , airing on Sky One Friday through Sunday. The Sun also reports:
Harry Potter star Daniel Radcliffe,16, is banned from Sky One's celebrity soccer contest – in case he gets hurt. His managers fear any injury could wreck filming of the fifth movie, Harry Potter and The Order Of The Phoenix. But his co-star Rupert Grint IS playing in this weekend's tournament.
Thanks much to Elaine! Anyone with videocaptures please send them in!