"Driving Lessons" Review and Report from Q&A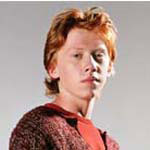 May 02, 2006
Uncategorized
Reader Hope has sent us an excellent report of Rupert Grint's appearance at the Driving Lessons premiere (pics here), including a review of the film and excerpts from the Q&A that took place afterward.
"Audience Question: Do you relate to Ben (Rupert's character)?
Rupert: In some ways I do- (laughs) the crap dancing!

Audience Question: How was your first on-screen kiss? (Note: the girl who asked this question, a Leaky reader, can be seen getting kissed by Rupert here; and shortly she'll be seen hiding from all the rabidly jealous fangirls.)
Rupert (totally blushing): Fifteen takes, that took! (Audience laughter) The girl was really helpful – I'll stop there. (More audience laughs).
Hope says of the film, " sincerely doubt that after this film people would doubt that Rupert is a talented actor. His development of the character is really amazing and we finally get the chance to see Rupert play such a wide range of emotions. I believe that even non-Rupert fans will see him in a whole new light." Jeremy Brock, the writer and director, also notes that he chose Rupert because he felt he was very talented and underused in the HP film – a longtime gripe of HP Grint fans. Thanks so much, Hope!
Also thanks to reader Tara, for letting us know that there's more, including video, on her "When Tara Met Blog".