Emma Thompson "Plants Pink" for Breast Cancer Care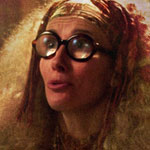 May 22, 2006
Uncategorized
Emma Thompson (Professor Trelawney) attended a private viewing of the 84th Chelsea Flower Show today, and unveiled a pink rose to kick off the "Plant Pink" campaign for Breast Cancer Care. As she presented the flower, Ms. Thompson said,
"It seems to me there are more and more women getting this disease. Of course, since they are the growers and nurturers, the effects of a woman having this disease go very, very far through the family. The reverberations through children's and parents' lives are very great.
I am promoting this for all the people who I know who have lost their women."
This editor especially thanks you, Ms. Thompson, for supporting a cause so near to her own heart!