Autographed Gambon, Fry Photos Being Auctioned for Charity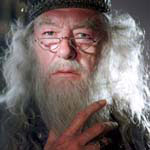 May 23, 2006
Uncategorized
Michael Gambon has donated a signed photograph of himself, in full Dumbledore regalia, to a charity auction on eBay. Among the other signed photos in this auction is one of Stephen Fry, narrator of the British Harry Potter audiobooks, in his "V for Vendetta" costume. Funds raised will benefit World Cancer Research Fund, whose mission statement is:
"World Cancer Research Fund (WCRF UK) is the principal UK charity dedicated to the prevention of cancer through the promotion of healthy diet and nutrition, physical activity and weight management. We are spreading the news that 30-40% of cancers could be prevented by taking simple steps to improve lifestyle."
Bidding closes May 26. Good luck to bidders, and thanks to Catherine in Dublin for the notice!