Potter Actors to Take Part in Special Play for Queen's Birthday Party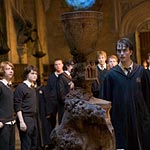 Jun 11, 2006
Uncategorized
Several actors from the Harry Potter films will be taking part in a special play for the Queen's birthday party as was officially announced today. Dan Radcliffe (Harry), Emma Watson (Hermione), Rupert Grint (Ron), Matt Lewis (Neville), and Julie Walters (Molly Wealsey) all will be part of a special party held in honor of the Queen's 80th birthday at Buckingham Palace on June 25. All that is known about the actor's part is that it is a " a specially-written scene." Author J.K. Rowling will also be reading from Harry Potter and the Half-Blood Prince before the play. A BBC spokesperson says:
"The Queen has invited characters from the world of literature to the palace to help celebrate her birthday. But just as everyone starts to arrive Mary, the Queen's maid, her butler Mr Tibbs and Sophie from The BFG realise the Queen's handbag which contains her speech has gone. Sophie (played by herself – Sophie Dahl) had The BFG written for her by her grandfather. "
Earlier reports said that Dan Radcliffe was going to be unable to attend this event, and we are trying to verfiy this, but this information is coming from those in charge of the event. The BBC will be broadcasting portions of the party, including the reading by JKR. TLC plans to have video and more up from this event, so stay tuned!