PotterCast #43: Monsieur Noe's Holiday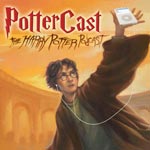 Jun 11, 2006
Uncategorized
PotterCast 43 is now available!
In this show:
Canon Conundrums: Why didn't Snape just take Harry with him?
How Snape's eyes may be the key to the series, in our second Lumos Limelight interview – this time with Dr. Edmund Kern, a returning Leaky guest.
In the modcast: Why is Neville in Gryffindor? Lorie, Doris and Jason tackle the question.
John is in NY with Melissa – he can SEE her roll her eyes at his jokes. It's weird.
Give 'em HELL Dobby!
Devon and Stan in Japan
Jo named Greatest British Author
Melissa Anelli stars in "The Red Headed Card Catalog"
John gets new sheets
Melissa and John re-enact the infamous Pottercast Voldemort interview
Coming soon:video of John's first Chipotle burrito in an entire year
If you're nerdy, why can't you be brave?
The "Inner Nerd" theory
Has Snape been reading Harry's mind since day 1?
Similarities between Snape on "The Lightning Struck Tower" and Harry in
the cave
If Snape is evil, he left Harry for a reason.
If Snape is good, he's protecting Harry.
Steve claims that only way everything makes sense is for Snape to be good.
Melissa plays Devil's Advocate: You can read the book both ways, it's
ambiguous.
Was Snape teaching or taunting Harry?
John says Snape earned the DE of the Month Award.
Melissa changed rooms
John loves museums
John's burrito instructional video
John's a Hufflepuff?
"Dobby is Free" IS in the show close this week!
Running time: 1:13:33
The final edit of this show was completed by editor Mike Neighbors.
You can listen to the show on iTunes (download and install here) by clicking here to listen, or you can just use the streaming Flash player at PotterCast.com. You can also direct download it here, and discussion of the PotterCast is right here. Enjoy!