Leaky Presents: Harry Potter Crafts!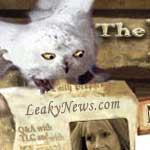 Jun 12, 2006
Uncategorized
We're thrilled to finally present: Leaky's Harry Potter Crafts section!
Right after we heard new Leaky staffer Josée talk about her Harry Potter crafting on PotterCast, we asked her to bring her special knowledge and talent to a new Leaky section. We know a lot of you out there like to make your own designs, fabrics, crafts, scarves and whatnot, rather than buy them, so here is an incredibly detailed guide, exhaustive and collaborative in nature, giving tons of ideas on how to do it all yourself. It includes how-tos for Harry-Potter themed crochet, fabrics, interior decorating, jewelry, knitting, needlework, quilting, sewing, food, parties and a lot more.
Josée Madalia has been working on this since the day after she spoke about it on PotterCast – 10 weeks ago – and has been working quite hard at it, too. She's pulled almost the entire online HP crafts community together to come up with an exhaustive section. We're thrilled with how it came out and hope you will be too.
Some of you already noticed that there's a new Crafts section to our gallery which has been receiving updates throughout this week; that will be completed shortly and a link to it made available on our front gallery page.
As usual there are lots of people to thank:
For the coding, Kyrane, REMleakyelf113, mlwl, KimmyBlair
For graphics: KimmyBlair, who designed the crafts logo
Other helpers: Lizzieangel90, Amy, Aisilinn, Alex, Nick Poulden, Doris
And, of course, most of all, our craftsmaster, Josée! Enjoy, everyone!