More on Queen's Birthday Party HP Sketch, DVD, and Book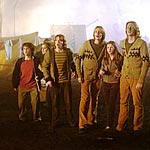 Jun 15, 2006
Uncategorized
As we told you previously, there is to be a special birthday party for the Queen on June 25, and several figures from the world of Harry Potter are involved in this event. We now have several updates for you regarding their involvement. First, Warner Brothers has updated their official Harry Potter website with more information on sketch that will be included involving four actors from the films. This sketch, which has already been filmed, will air during a special play that is part of the festivities.
"As part of the event, Daniel Radcliffe, Rupert Grint, Emma Watson and Matthew Lewis will appear in character as Harry, Ron, Hermione and Neville in a filmed segment on the Gryffindor common room set recommending a spell for the Palace to use in order to apprehend a thief. It is this spell that ultimately leads to them catching the crook. "
Also, the official Children's Party at the Palace website has been updated and now says that a special DVD and book from the event will be available for purchase later this summer. While we do NOT know yet if this DVD will contain the special Harry Potter sketch, we are working to find out more on this. TLC can tell you that author J.K. Rowling will not specifically be part of this "souvenir storybook based on the script of the BBC live show" coming from Harper Collins. Finally, while there is to be a special author tent at the party, there is not to be any formal question and answer session involving our favorite author there. Jo will still indeed be reading from Harry Potter and the Half-Blood Prince before the play. The BBC and CBBC will be broadcasting highlights and portions of the party and play 6.15 to 7.30 pm (until 7.00 pm on CBBC).