Order of the Phoenix to be Simultaneously Released in IMAX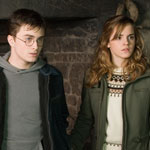 Jun 21, 2006
Uncategorized
Warner Brothers has announced that Harry Potter and the Order of the Phoenix will be released in IMAX the same day the film is released in general theaters next year on July 13. According to this press release, OotP is WB's thirteenth film to be released in the IMAX format.
"The Harry Potter series has been a huge success in IMAX theatres, and we are delighted to combine this next exciting installment with The IMAX Experience to offer Harry Potter fans another magical adventure for 2007," said Dan Fellman, President of Domestic Distribution at Warner Bros. Pictures. "The IMAX theatre network is a proven source of incremental revenue that we believe will grow exponentially as more IMAX theatres continue to open around the world."

"We're delighted to be working with Warner Bros. Pictures on our 2007 film slate this early in the year," said IMAX Co-Chairmen and Co-CEOs Richard L. Gelfond and Bradley J. Wechsler. "The last two Harry Potter films we released to IMAX theatres grossed a combined $34 million, demonstrating the strong worldwide appeal of Harry Potter and The IMAX Experience. This new title gives us a powerful kick-start to next year's film slate."
Filming for Harry Potter and the Order of the Phoenix is currently on hiatus and will resume next month.