Hedwig Causes Disturbance at the Palace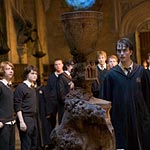 Jun 24, 2006
Uncategorized
As we have been telling you, tomorrow there will be a special party at Buckingham Palace in honor of the Queen's 80th birthday, where author J.K. Rowling will be reading from Half-Blood Prince. As part of the festivities, there is to be a play that includes both a taped appearance from several actors from the Harry Potter films, as well as a live appearance by Ook, aka Hedwig, Harry's Owl from the movies. UK tabloid The Sun is reporting tonight that apparently Hedwig caused quite a stir today at the castle among the Muggles during rehearsals for her part in the play.
"Ook took flight during rehearsals in the gardens for a play to mark the Queen's 80th birthday. As he soared over the palace walls he set off an alarm and armed cops swooped within seconds to protect Her Majesty.

Ook flew into nearby Hyde Park, where the Wireless O2 music festival was being held. The din meant Ook — who plays Harry's pet Hedwig in the Potter films — couldn't hear his trainer's whistle. A source said: "He started a real commotion. The police arrived in seconds after he flew off. He made himself scarce and his handlers and trainers went to Hyde Park to look for him."
…
Ook returned last night safe. The source said: "We had a spare, but we're delighted to find Ook. He's precious."
The Children's Party at the Palace is being broadcast on the BBC tomorrow starting at approximately 6pm (following the World Cup game) and TLC will have video up as soon as we can of the highlights, so stay tuned!