JKR Talks Book Seven and the End of a Saga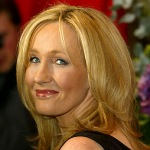 Jun 25, 2006
Uncategorized
At the birthday party today for the Queen, author J.K. Rowling was asked about her thoughts and progress on Book Seven. She did not give any details nor clues about the book, but only said to Reuters:
"I am feeling sad as it is the last one. But so far, so good."

Pressed on when the book would be ready for publication, she would only say: "I'm doing well I think. You can never really tell till you get near the end. I am not quite there yet."
Some 2,000 children attended this event, and reports say that Jo signed many autographs and met with the lucky attendees. They also were treated to a reading from Harry Potter and the Half-Blood Prince as well.
Unabashed by the frenzy of young fans stretching out eagerly for a signature, she said: "This is the bit I like. I like meeting them."
…
It must have ranked as one of the weirdest places she has ever been mobbed by pint-sized fans.

"I must say it is quite surreal to be here in Buckingham Palace," she said, disappearing behind a sea of little hands waving autograph books and Harry Potter paperbacks.
Update: The Times has this report now where Jo also says "Harry Potter would have been 'a bit fazed' by the event," she said. "But he's quite cool, and I think he would have been impressed."