PotterCast #45: The One Without Melissa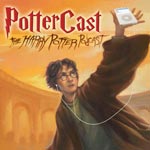 Jun 25, 2006
Uncategorized
PotterCast 45: "The One Without Melissa"
Remember to hit "Update" on your iTunes!
In this show:
-This week: Our Melissa is away and the MuggleCast boys come to play.
-Andrew Sims joins John and Sue for the Lowdown on all the news.
-Let's talk Hair on Harry and Neville
-Hedwig's got a new feather-cut.
-Sue talks about her favorite actor-guess who?
-John will be armed with his wand at the IMAX.
-Dawlish the Cat.
-We ask "What would Melissa Do?"
-Fan Interview with KimmyBlair and Moriah, a peace corp volunteer talk Potter fans in Bulgaria where Moriah is located.
-The Modcast discusses soul splitting.
-Is the soul somehow diluted each time it is split?
-Mailbag with our John, plus Andrew Sims and Ben Schoen from MuggleCast.
-Is Sue really a Death Eater?
-Andrew doesn't believe in Shipping.
-How do you block out people who tease you about HP?
-Andrew says "Punch them in the face!"
-Info on the Live Podcasts at Lumos and NYC.
-Sue never listens to John (not really)
-John's alarm didn't work, so no Melissa!
-Shameless plug for MuggleCast.
Running time: 1:16:54
The final edit of this show was completed by editor Jeff Gregory
Remember you don't need an iPod to listen; just a computer and an internet connection, which you already have! You can listen most easily on iTunes, which you can download and install here by clicking here to listen, or you can just use the streaming Flash player at PotterCast.com. You can also direct download it here, and discussion of the PotterCast is right here. We will also have a chat tomorrow on the Leaky Lounge at 12 pm EST, so log in at that time for that! Enjoy!