Happy Birthday, Matt Lewis!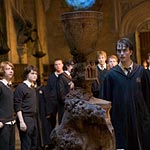 Jun 27, 2006
Posted by Melissa Anelli
Uncategorized
Today is actor Matt Lewis's 17th birthday – that's right, the fumbling little Neville we met in 2001 has become a full-fledged adult. Congrats to the Leeds native, whom we hope has a birthday with everything he wants on't!