Evanna Lynch: Luna is a "Breath of Fresh Air"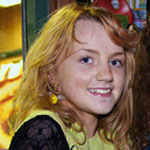 Jul 20, 2006
Uncategorized
Actress Evanna Lynch has given a new interview today to Lizo of CBBC Newsround, and she discussed her role as Luna Lovegood in the upcoming Harry Potter and the Order of the Phoenix. In today's Newsround broadcast, they aired comments from Evanna, as well as Dan Radcliffe and Emma Watson, which you can watch via this link(click on Thursday, July 20). The entire version of the interview with Evanna is also available for you to watch online here. Evanna details what the casting and auditons were like, as well as mentioning how the progress is going on the new movie.
What's filming been like so far?

It's really fun. I just really enjoy the filming part and everyone's really, really nice. And you don't get nervous when you are talking to everyone. Well the first few days I was nervous but then when you start talking to people it's fine.

How similar are you to Luna and why do you think people like her so much?

People like her because she's like a breath of fresh air. Because in the fifth book it gets so dark and Harry's always cross and then every time Luna comes in all the tension goes and she makes you laugh because she's so funny and really honest. I don't know how much I'm like her, there are some similarities but I'm more determined than her.
…

Are you looking forward to filming the fight scenes in the Ministry of Magic at the end of the film?

Yes very much. That's going to be exciting. I was watching them building the set and it looks really good.
Evanna also goes on to relate what it was like when she met author J.K. Rowling, and what it meant to her as a fan of the books, to meet the Harry Potter author.
Well just meeting JK Rowling was amazing because she created all this world. And all the fans, we all get so obsessed with it and then you met the one person who made it all up. It was just so amazing. And I was just so amazed that that she wrote this book and all of the films have happened. She was really, really nice and she's really easy to talk to. I was telling her my theories about what will happen and she just nodded. But she kept it secret, I don't want her to tell me.

Are you a really big Potter fan then?
I'm a huge fan. So it's not just like I wanted to be in a film. I wanted THIS part. I love the books – they make me feel happy. And it's something to do as well because of all the fans sites you can talk to people about it. The books are about magic so you can escape all the world here, and also they're about teenagers. They're normal teenagers, but they're magic, so you can still relate to them.