Update on OotP Comic-Con Video Message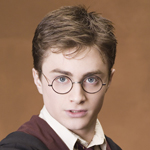 Jul 21, 2006
Several reports are now online about the video message played at Comic-Con promoting Harry Potter and the Order of the Phoenix. Latino Review says the video of " Daniel Radcliffe and the director was played to introduce the film. Each of them alludes to a famous kiss, but is humorously interrupted by something in the telling." Quint from Ain't It Cool.com also attended the Warner Brothers presentation at Comic-Con today, and has a few additional details. He says:
"The video was really short, but had Daniel Radcliffe sitting in Trelawney's classroom, introducing David Yates. He acts like he's about to tell us a big Potter secret when Yates shows up and interrupts. They talked a tad about getting to see Umbridge (who Yates called a genetic splice between Doris Day and Freddy Kruger) and Hagrid's big giant brother.
We will update with more when we can. Anyone who attended, please send in their report!
Update: Rope of Silicon has this photo of a Harry Potter poster from Comic-Con, and Comic Book Resources has another small report about the video message at this link.