Chicago Tribune on Official Harry Potter Tour: "Best book club discussion ever"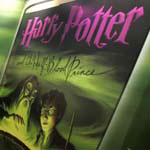 Jul 24, 2006
Uncategorized
The Tempo section of today's Chicago Tribune features a short piece on the official Harry Potter tour event that took place in Naperville last Thursday, calling it the "best book club discussion ever." You can see a scan here in our gallery – thanks Lilah!
The piece reads:
Potter Panel
Event: Potter Panel Podcast at Anderson's Bookshop, Naperville.
Who was there: Melissa Anelli (Webmistress of The Leaky Cauldron fan site); Emerson Spartz (founder of the MuggleNet fan site); Cheryl Klein, editor at Arthur A. Levine Books (author J.K. Rowling's American publisher).
Cool factor: All three know Rowling. Melissa and Emerson have been to her house. Cheryl will learn how Harry's story ends before any of the rest of us.
What it was like: Best book club discussion ever. Panelists joined in with more than 200 serious readers of all ages who knew their stuff. Plenty of questions and theories about the book plots and how Rowling will knit together all the loose ends. Packed room, fun – and you can download a recorded version next week from PotterCast.com and MuggleCast.com [not technically true; it will be on its own Scholastic feed, but we will provide links].
Best quip about Harry: "Whenever you're the Chosen One, you bascially have no life." (Cheryl)
Best gleeful nod to resourceful fans: "We're not supposed to know this, but we're really cool and we do." (Emerson)
Best bets for pivotal roles: The Mirror of Erised; Aunt Petunia; Neville Longbottom. (Everyone)
Best Mnemonic: "It's Rowling, like bowling." (Melissa) [Believe it or not, TO Emerson.]
Best prediction about how Rowling will end the series: "She's not going to go all French Existentialist on us." (Cheryl)
Best embarrassing moment: A girl's cell phone went off, and she blushed. The ring tone: "Hedwig's Theme," from the Potter films. Of course.