Cheryl Klein Joins This Week's PotterCast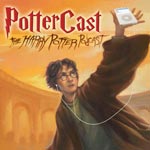 Jul 06, 2006
Uncategorized
Extendable Ears returns to PotterCast this week in a big way with Cheryl Klein, editor at Arthur A. Levine books at Scholastic, who has helped bring the last two Harry Potter books to the world, as well as serves as the guiding hand to a wide range of other novels. We'll be talking with her not only about Potter but writing and editing in the fantasy/young adult genres in general.
She'll be with us for the whole show, so here are the ways you can interact:
-1. Leave your question for Cheryl on our voicemail (call 702.42.LEAKY, Skype "PotterCast or follow the other instructions on PotterCast.com)
2. Leave a voicemail about Canon Conundrums (which makes its return this week): What do you think the gleam in Dumbledore's eye at the end of book four meant?
Thanks guys, we can't wait – this is going to be a very fun show. Cheryl is not only wickedly smart, but very funny (and I don't just say that as her friend; and yes, PotterCast listeners…she's "hott" Cheryl, who has recently earned her third T. You'll find out why on the show.)
Cheryl's bio is below:
Cheryl Klein is an editor at Arthur A. Levine Books, where she handles a wide range of domestic and international projects. She works closely with Lisa Yee, Saxton Freymann, and Kate Constable, among others, and is also known as our imprint baker and queen of editorial doggerel. Cheryl grew up in Peculiar, Mo., graduated from Carleton College and the Denver Publishing Institute in 2000, and joined Arthur A. Levine Books that same year. Her favorite non-AALB books include Charlie Parker Played Be-Bop by Chris Raschka; A Little Princess by Frances Hodgson Burnett; The Hero and the Crown by Robin McKinley; Possession by A. S. Byatt; If on a Winter's Night a Traveler by Italo Calvino; The Amazing Adventures of Kavalier and Clay by Michael Chabon; and the complete works of Jane Austen, Dorothy Sayers, and Patrick O'Brian.