Official Scholastic Harry Potter Tour/Podcast Dates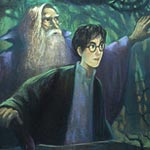 Jul 06, 2006
Uncategorized
The separate bookstore sites have been advertising them, but here they are in one place: This July, I for Leaky, Emerson for MuggleNet and Cheryl Klein, editor at Arthur A. Levine/Scholastic books, will visit bookstores in three states to talk about the Harry Potter series and what's left for our hero. The live events will also become a podcast, and more information about that is forthcoming. But for now here are the dates so you can consider coming; we'd love to see you!
July 20, 7 p.m.
Anderson's
123 West Jefferson
Naperville, IL

July 25, 7 p.m.
Barnes & Noble
8915 W. Charleston (within walking distance from the Lumos site)
Las Vegas, NV

July 30, 1 p.m.
Barnes & Noble
189 Grove Drive
Los Angeles, CA
We hope to see you there! More info and links soon.