Director M.Night Shyamalan in Sight to Direct HBP?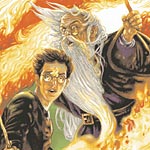 Jul 08, 2006
Uncategorized
Coming Soon has posted a new interview with film director M. Night Shyamalan, where he comments on whether he has been approached to direct either Harry Potter and the Half-Blood Prince, or the yet as un-named film version of Book Seven. He says he was asked about directing Sorcerer's Stone, and still is uncertain if he would undertake such a big project as directing a Harry Potter film. Quotage:
"You know, that Harry Potter dance has gone on a long time," he told us. "The problem is that it is a living breathing thing now, all by itself. When it comes over to my camp, it needs to be kind of handed over, adoption papers and everything. That's a tricky move.

"I haven't met with J.K. [Rowling]," he continued. "The first one was offered to me, but that conflicted with 'Unbreakable,' which was unfortunate. I would definitely, but I think probably before that I would adapt a book. I've gotten close a few times to adapting books."
M.Night Shyamalan is best known for directing such hit films as The Sixth Sense, Signs, and The Village. His latest film Lady in the Water is due to be released July 21.