More Book Seven Death Predictions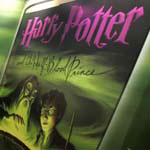 Jul 09, 2006
Uncategorized
In the wake of JKR's recent interview on the "Richard & Judy" talk show, the media continues to write stories about Book Seven, and the possible deaths contained in the last book. The newest entry covering this topic comes now from Entertainment Weekly, where they have an article featuring the breakdown of their odds on who will not survive the end of the book.
WEASLEY KIDS: Offing Harry's best mate Ron would be dramatic. But more likely to meet her maker is his sister Ginny, whom Voldemort tried to murder in book 2. RON ODDS: 20-1; GINNY ODDS: 6-1

HAGRID: The gentle half-giant is Harry's last adult ally. Sadly, this spells doom. ODDS: 3-2

HERMIONE: Rowling has said she sees herself in the brainy gal. Killing the strongest young female would send a wicked message, indeed. ODDS: 50-1

SNAPE: Harry is convinced he's on Voldy's side, but Dumbledore defended him until the end. Expect the prickly professor to die a martyr fighting the Dark Lord: ODDS: 2-1

HARRY: Voldy won't quit until The Boy Who Lived is no more, so their ultimate face-off will be apocalyptic. But ending the series with the death of the hero? Beyond shocking. ODDS: 9-2

VOLDEMORT: Goodbye, Mr. Big Bad. ODDS: Even
In a related note, CNN has this article that speculates on the longtime fan-discussed 7/07/07 release date, and the positive impact that would have on the stocks and outlook of Scholastic as they face the prospect of life beyond Harry Potter.
"Drew Crum, an analyst with Stifel Nicolaus who follows Scholastic, said that once an official publication date is announced, that should be good news for the stock, even though this will mark the end of an amazing run of huge book sales for Scholastic.

Overall, there are more than 120 million Potter books in print in the U.S., according to Scholastic. (The series has also generated four hit movies for Warner Bros., the studio owned by Time Warner (Charts), which is also the parent company of CNNMoney.com. A film based on the fifth Potter book, "Harry Potter and the Order of the Phoenix" will be released next summer.)

"In the past, Potter has provided a catalyst to the stock ahead of the publication date," he said. "Yes, bears would say, 'Why pay up for non-recurring revenue?' But we don't think the stock is going to flat-line. There will be a lot of euphoria and speculation."
Thanks to Kelly, Michael, Grace, and all who emailed!