JKR, Alan Rickman Attend "SnowCake" Screening in Edinburgh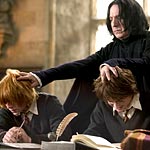 Aug 15, 2006
Uncategorized
Author J.K. Rowling and her husband appeared at the screening of "Snow Cake" today at the Edinburgh Film Festival, which was attended by the stars of the movie, including Alan Rickman (Professor Snape). You can see photos of Jo, along with Alan and his co-star Sigourney Weaver, here in our galleries.
Update: This article is now online about the screening, where Jo jokes that "it was 'lovely' to have
been able to walk to the venue." Alan Rickman also comments about the quality of the script for Snow Cake as well.