PotterCast #51, Featuring Matt Lewis, Now Up!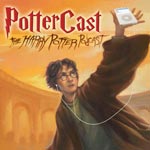 Aug 16, 2006
Uncategorized
The 51st show of (the now-Podcast Award winning!) PotterCast, is now up! In this show, Matt Lewis comes by to talk about movie five, movie four, book six, and much, much more, in the first of a three-part interview. To listen, just hit the "Play" button on the right side of the page (—>), or use iTunes, or direct download.) In this show:
Matt Lewis (Neville Longbottom) is back on PotterCast for the first time in a year, and he's ready to talk all about movie five, the new director, the new cast, the new Neville and much, much more.
-Sue tries not to deafen him!
-Matt says Neville "rapidly changes throughout [film five]," while we see that Harry is "not invincible." He says he's working harder than ever before, closely with the trio and Ginny.
-Differences between screenwriters Kloves and Goldenberg ("He's American, for a start.")
-The struggle over how to say "I killed Harry Potter!" in the fourth film
-Matt on taking down Bellatrix: "I'll do my best."
-Revisiting the scene from movie four where Neville reacts to the idea of his parents' torture. ("I wanted to get that so right.")
-David Yates, the director of the fifth Potter film, and how he coaxes a performance out of an actor.
-Imelda Staunton plays evil professor Dolores Umbridge as "cruel, twisted and slightly mental…she's plotting how she's going to kill you later on, when your back is turned."
-Teasing about the World Cup commences
-"Yo Queen, how you doin'?" (says Matt)
Also in the show:
-John's away for the opening and closing of the show, so the girls play.
-The PodcastAwards are closed – thank you for the votes! (We now know we won, but will talk about it next week!)
-Jo in New York, Jo on the street, Jo everywhere!
-Phoenix Rising, conventions and fan events
-The mailbag is back!
-How did Hagrid get to Godric's Hollow?
-The mirror Sidekick
-How did Dumbledore do magic at 4 Privet Drive in book six without getting Harry in trouble?
-Dumbledore and his purple suit getting great reservations at restaurants
-YouTube fun!
-Sue as Arabella Figg!
Remember you don't need an iPod to listen; just a computer and an internet connection, which you already have! You can listen most easily on iTunes, which you can download and install here by clicking here to listen, or you can just use the streaming Flash player at PotterCast.com or just on the right side of this page. You can also direct download it here, and discussion of the PotterCast is right here. We will also have a chat today on the Leaky Lounge at 12 pm EST, so log in at that time for that! Enjoy!