Rupert Grint to do Project for ITV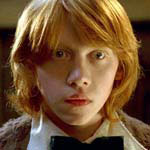 Aug 09, 2006
Uncategorized
Actor Rupert Grint (Ron Weasley) has been tapped for an unnamed project to air on ITV. In an effort to "revitalise" ratings, the UK channel is enlisting the use of some well known names to help with stronger programing and audience appeal. The BBC reports that:
"A spokesman said they would include Rupert Grint – who plays Ron Weasley in the Harry Potter films – who has been signed up for an unspecified project.

Victoria Wood, Ray Winstone and Julie Walters will also appear in forthcoming dramas.
ITV is due to confirm more about this at the Edinburgh Television Festival, which is taking place the same time Driving Lessons is screening at the Edinburgh Film Festival. Both Rupert Grint and his co-star Julie Walters (Molly Weasley) are due to attend the screening on August 26.