Rickman BBC Interview Available for Online Listening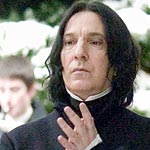 Sep 01, 2006
Uncategorized
We told you that actor Alan Rickman was due to be interviewed today on the BBC 4 radio show "The Film Programme." You can now listen to that interview online, here (click on the "Listen Again" link on the right-hand side of the page). The interview with Mr. Rickman begins at 19:57 into the program, and covers many of his film roles, especially that of Alex in his new film, "Snow Cake." There IS a Snape question, of course, at about 26:27 into the interview:
Q: Do you find yourself eagerly reqading each new J.K. Rowling book in order to see how big your part's going to be?
A: Well . . . I read it, yeah . . . I've got to stay ahead of the game on that one. But actually, young people usually talk to me about "Dogma."
Thanks to Charming Marauders!