PotterCast 55 Now Live!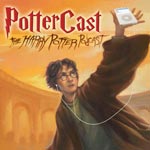 Sep 10, 2006
Uncategorized
PotterCast 55 is here, and it's full of timely, in-depth discussion of the latest week of hot-button Potter news: to listen, just hit the "Play" button on the right side of the page (—>), or use iTunes, or direct download.) More notes:
-This week, our Canon Conundrums and Fan Interview segments are both in response to some very hot-button news items:
-In Canon Conundrums: Jo said Voldemort has finally gotten some legroom – What is Voldemort's ultimate plan?
-In our fan interview, Fr. Stuart from our forum, to talk about Harry, Catholicism, and whether it's really safe for Christians to be reading the books.
-Is Harry the evil?
-What themes important for Christians in Harry Potter?
-Jo – she knows grisly
-Voldy: My way or the highway
-Wizards DO need the internet (http://www.eviloverlord.com/lists/overlord.html)
-Voldy is waiting for those TPS reports
-The DA: Doing it for Dumbledore since 1995
-The Meatball incident revisited
-Will the Molly Weasley boggart scene be in the fifth film?
-Does JKR write the romance parts with little hearts?
-John's not the only one to have a birthday this week: Happy birthday to Andrew, Sue's piratey son!
-Melissa will stop talking about her cat, soon. Really. She promises. Sort of. Maybe.
-RT: 1:20:54
Final Edit: Mike Neighbors
Remember you don't need an iPod to listen; just a computer and an internet connection, which you already have! You can listen most easily on iTunes, which you can download and install here by clicking here to listen, or you can just use the streaming Flash player at PotterCast.com or just on the right side of this page. You can also direct download it here, and discussion of the PotterCast is right here. We will also have a chat tomorrow (Monday) on the Leaky Lounge chat room at 4 pm EST, so log in at that time for that! Enjoy!