Introducing…the Leaky Video Gallery!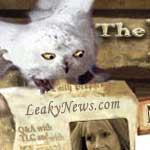 Sep 14, 2006
Uncategorized
We are thrilled to unveil Leaky's Harry Potter Video Gallery!
This has been a TREMENDOUS undertaking by at least half of our staff over these past few months. This is your one-stop for browsing HP-related videos. You can watch each video right on your screen, or download them in WMV or iPod-friendly format for later. You can also browse by category, year and rating; watch featured videos and random videos, comment on videos, rate the videos, and send the videos to your friends easily. We're still adding videos but there are currently over 400 (some of the more recent ones have not yet been converted into the proper format but will be very soon).
This is one of the most ambitious projects we've ever undertaken, and if it weren't for two brand new superfast Leaky servers we wouldn't be able to handle it. We're still hoping the whole site doesn't explode. Cross your fingers!
Alex Robbin, Leaky's newest senior staff addition, coded this entire gallery from scratch. To say we're proud of him is an understatement: this is the same person who, in his first year on staff, singlehandedly crashed the Leaky site and the forum. He's come so far, and at 16, to have created this, is unbelievable.
And, as always, our John Noe designed the awesome layout.
The unveiling of these galleries also allows us to welcome our newest member of staff, Chris Dotson, our video guru. Chris is an aspiring fimmaker who came to Leaky out of the blue many months ago and has been working hard behind the scenes ever since we realized we couldn't let him slip away. Here's some more bio:
Chris dreams of working on the Harry Potter films and spends his days managing video projects for a major cable broadcaster and playing with all the new techie gadgets that come out.

After film school, he worked on several projects for Congress and the President of the United States, then moved to the private sector by taking a job at HGTV. From there he left to start his own company which grew into a sizable corporation that was just recently bought.

When not working, he enjoys listening to Harry Potter audiobooks, watching movies, and collecting movie props and replicas. He has a small but growing collection at the moment, but is always looking for the next good deal.
Welcome, Chris, officially!
And, of course, whenever you see something huge like this go up on Leaky it signals that a small army of people worked together to make it happen. The team that has been working to insert, categorize, describe, keyword, organize, and otherwise jumpstart this project has been unbelievable. Huge thanks, love and admiration is owed to the following people:
Doris Herrmann
Nick Rhein
Anna Noe
Donna Hosie
Robert
Dawn
Chloe
Switchboard Tim
Gina
Doug
James
Andrew
Josee
KimmyBlair
erinraie
mitch
Jaimie
elizabeth
Mrs Brisby
Martin
Molly
Viva
HPFan731
ridickulusdragon
Andrew (Superblue)
Jason (Guru of Sloth)
amoscotia
flipendo
kimmers
Psyche (Holly)
weirdsis
Jerry
Julie (libbysmom)
Kyrane
Jesse
Leila
Sarah (Poet)
Phew! You are all simply the best, and now we can all get down from our little podiums and go watch some TV (with Snape, as you see by the icon).
Enjoy! We can't WAIT to see what bugs you find so we can spend tomorrow fixing.