Hogwarts Interactive Event Scheduled for Philadelphia in July 2007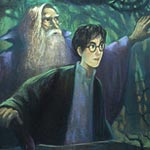 Sep 15, 2006
Uncategorized
Bonding over Books today announced Enlightening 2007 ("E7″), the first-ever Harry Potter Camp for Families, to be held on the University of Pennsylvania's campus on July 12-15, 2007. This immersive, interactive fantasy event for families who love Harry Potter, will coincide with the release of the film Harry Potter and the Order of Phoenix.
"E7 provides the perfect venue to launch our new nonprofit and its mission of helping readers use their love of books to create new bonds across and within families," said Victoria Breeden, executive director of the nonprofit Bonding over Books. "Millions of families love the Harry Potter books. Now the most diehard fans will have a chance to live the books."
Co-sponsored by the University of Pennsylvania's Graduate School of Education, the four-day event takes advantage of Penn's gothic campus to recreate the mysterious, magical world of the Harry Potter series.
Children who attend will join Hogwarts-style classes based on science and deductive reasoning to solve real mysteries over the four days, while teenagers will have their own dormitory and join in programming to produce short original films, improvisational comedy sketches, an a cappella concert, and original fanfiction.
Parents can choose from a variety of interactive seminars and round tables — featuring experts on parenting and the Harry Potter literature — and take optional field trips. On the opening night of Harry Potter and the Order of the Phoenix, families can attend an exclusive red-carpet movie premiere event that includes interviews, the E7 podcast, and discussion sessions after the film.
"The Graduate School of Education is thrilled to co-sponsor Enlightening 2007," said Doug Lynch, Vice Dean of Penn's GSE. "We're happy to provide a venue and support for Bonding over Books' innovative, new ideas on how to inspire a continued love of reading and learning for family members of all ages."
Ticket prices for the event start at $275 (USD) per person and can be purchased online. Lodging options range from on-campus dorms to family suites in on-campus hotels.
For more information about Enlightening 2007 or to register online, click here.
Note: This event is not endorsed, sanctioned, or in any other way supported, directly or indirectly, by Warner Bros. Entertainment, the Harry Potter book publishers, or J.K. Rowling and her representatives.