PotterCast 56 Now Up!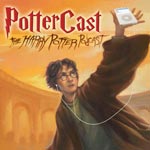 Sep 17, 2006
Uncategorized
PotterCast 56 is out, and you can listen to find out how to win cool prizes, and for in-depth discussion on Jo's latest comments on the invisibility cloak! To listen, just hit the "Play" button on the right side of the page (—>), or use iTunes, or direct download.) More notes:
-The PotterCast Blog Challenge: Blog about us, show our banners, use our Flash player… win free stuff!
-Friend PotterCast on MySpace
-A very difficult Canon Conundrums this week: Why did Dumbledore have James's invisibility cloak if he could become invisible without one?
-Why Melissa cries into her breakfast every morning
-Jo's youngest child leaks the book seven release date*
-One word: Potter Transformers
-Lost in LA
-"I've killed Bob Barker."
-HerymG13/filk maiden Christina in the fan interview
-What's a FILK?
-Was Dumbledore being airy and Dumbledore-ie?
-Harry's Cloak…Voldemort's Cloak…Invisibility…Confusion….
-Get your Ninja!Dumbledore avatars ready…
-Memoryacharmus (a new John spell)
-Mr. Blood and the Superbloods
-Filking makes you feel good!
-Write and produce a PotterCast Broadway musical and you can win a lifesize Dobby
-Friday Sept. 22 is the deadline for the Broadway Filk Cast! Send entries to 'staff at pottercast dot com'
-California, here we come!
–Fitting it In is back
-Come see us at the Podcast Expo! You have to register first; see PotterCast.com for more!
*Not actual news. Please don't take literally
Running Time: 1:13:32
Final Edit: Stede Bonnett
Remember you don't need an iPod to listen; just a computer and an internet connection, which you already have! You can listen most easily on iTunes, which you can download and install here, by clicking here to listen, or you can just use the streaming Flash player at PotterCast.com or just on the right side of this page. You can also direct download it here, and discussion of the PotterCast is right here. We will also have a chat tomorrow (Monday) on the Leaky Lounge chat room at 4 pm EST, so log in at that time for that! Enjoy!