New Draco Malfoy Doll Due Next Year from Tonner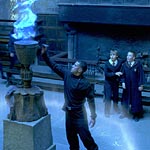 Sep 18, 2006
Uncategorized
The Tonner Doll Company, makers of the Harry Potter collection of dolls, has announced they will include a new Draco Malfoy doll next year in conjunction with the release of Harry Potter and the Order of the Phoenix. Playthings.com reports that:
This fall and holiday season, the Harry Potter line will include new dolls and accessories, followed next year by a version of villain Draco Malfoy.
The Tonner website has been updated with their new Potter products for the upcoming holiday season, which you can see via this link. These new items include a Quidditch Harry, Quidditch accessories, Crookshanks, Hedwig, and several outfits for the dolls including casual clothes for Ron, Hermione and Harry. Earlier versions of the dolls included the Trio wearing their Hogwarts uniforms, as well as dressed up versions for the Yule Ball. We will update you when these new products become available in our shop.