Newsweek Magazine Contains More New "Phoenix" Photos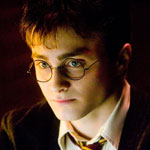 Sep 25, 2006
Uncategorized
Yesterday we reported that there are two new Harry Potter related articles contained in the October 2 issue of Newsweek Magazine, and one of the articles indicated that there were some "exclusive first-look photos of 'Phoenix' " along with the feature. Today a TLC reader has let us know that there are indeed three brand new photos from Harry Potter and the Order of the Phoenix included in the print copy, and one is of Dumbledore's Army which shows "Ginny, Cho, the Patil Twins, the Weasley Twins, the Trio, Neville, Luna, Dean and three other boys I don't recognize from previous films." There is also Umbridge sitting at her desk where "pink is the hue of choice (cherry wood desk, pink carpet, pink walls, curtains, and dishes – with what looks like kitties on them)." The last photo is of the Trio who are "in front of a fire in a dark room (I imagine it to be Grimmauld Place)." Any one with scans, please send them in! Thanks to bz for the heads up!
Update: Reader hihi has more on the descriptions
1. The whole DA standing in a large room–Harry front and center, with Cho on his right and Hermione on his left, Ron on Hermione's left and Luna to Ron's left. In the back row are the Weasley twins, Neville, and Dean, who has grown VERY tall. (15 students altogether)

2. Umbridge at her desk in her office, drinking tea. Pink carpet, pink wallpaper, with lots of decorated plates on it, pink curtains.

3. The trio in front of a grimey brick fireplace–Grimmauld Place? Harry and Hermione are standing next to each othe. Ron is sitting down a bit removed, to Harry's right. Hr is wearing a long gray coat over a fair isle-type sweater. Harry is wearing his gray hoodie sweatshirt under a black jacket.
Thanks again to Babs and hihi!
Update #2:Thanks to HPANA, you can now see the scan of the article with the new pics, here.