Banned Books Week: The Fight for Free Speech Goes On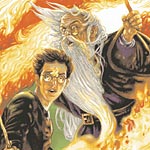 Sep 30, 2006
"Oh, Harry, don't you see?" Hermione breathed. "If [Professor Umbridge] could have done one thing to make absolutely sure that every single person in this school will read your interview, it was banning it!"
As noted by Jo, we're at the end of Banned Books Week 2006, and as is tradition here on Leaky, here's some information about the cause and what you can do to help make sure the wise words and wonderful worlds of fiction aren't lost to censorship.
-Download and use a Banned Books Web Badge
-Visit ALA Banned Books Week on the Web. This effort is sponsored by the American Library Association to educate the public about banning books and the effect it has on the community. Harry Potter is once again at the top of the most-challenged books (a challenge occurs when a member of the public requests that a book be stripped from a shelf).
–Vote for your favorite banned book: Let the public know how many people love the works that so many are trying to ban.
–Explore Banned Books with Google: Google has set up a way to browse the books that are most challenged. Find out what you and others may be missing if censorship continues.
-Read up on Why books are challenged as well as privacy and the first amendment.
-Check out the most challenged books of the 21st century (especially which familiar series tops the list).
-And most importantly, enjoy Harry Potter. Enjoy another banned book. Tell others why you love the series. Blog about it, write about it, call people about it – "it" being the way a piece of fiction has changed your view on the world and how terrible it would be if you had never found it because someone you'd never met decided you shouldn't read it.