PotterCast 54 Now Available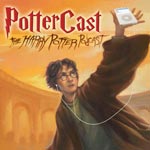 Sep 04, 2006
Uncategorized
At long last, PotterCast #54 is up! In this PotterCast, we have some great inside info on the creation of the HP video games an J.K. Rowling's role within it: to listen, just hit the "Play" button on the right side of the page (—>), or use iTunes, or direct download.) More notes:
-Our Extendable Ears this week is with Danny Bilson, one of the original creators of the Harry Potter video game, who shares with us all sorts of details about how the games get made and the level of Jo Rowling's involvement.
-The top secret "lateral fiction" document that Jo wrote to flesh out the Potter world for the vidgame makers
-Everything in the games – the spells, the creatures, everything – that isn't in the books comes straight from Jo. It's canon.
-How will the relationship between a wand and a wizard become more important in book seven, as Jo said it would? We talk all about it in Canon Conundrums.
-In our fan interview: About reading groups, and whether they're a good place to start before heading out into the larger forum
-Was Dumbledore nuts to keep sending all those letters to Harry in book one?
-Sue's off having dinner with Jason this week
-John wants to kick Michael Gambon in the shins – which we're pretty sure is going to get him arrested
-This month's Order of the Phoenix set visit and what it means for Leaky, PotterCast and LeakyMug
-Love your wand, people.
-Phoenix feathers, dragon toenails, same things, really
-Filkers get ready: The Broadway Filk Contest is coming!
-Live pocast in Cali info!
Running Time: 1:37:23
Final Edit: Jeff Gregory
Remember you don't need an iPod to listen; just a computer and an internet connection, which you already have! You can listen most easily on iTunes, which you can download and install here by clicking here to listen, or you can just use the streaming Flash player at PotterCast.com or just on the right side of this page. You can also direct download it here, and discussion of the PotterCast is right here. We will also have a chat today on the Leaky Lounge at 4 pm EST, so log in at that time for that! Enjoy!