Bonham Carter on Bellatrix: "Mad, Sadistic Witch"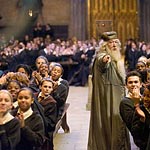 May 12, 2007
Uncategorized
Actress Helena Bonham Carter has been giving a string of new interviews recently, the latest found the Sunday Herald where she discusses her role as Bellatrix Lestrange in the upcoming Harry Potter and the Order of the Phoenix. Noting the role as the "mad, sadistic witch" in the upcoming fifth film, Helena Bonham Carter is quoted as saying:
"It was the other extreme," she says. "That was six weeks and I had about five lines you just camp there and every so often do a bit of acting in front of green screens." Given the dotty impression she makes, I wonder if it's this that led to her Potter debut. "I don't know," she muses. "I obviously do madness quite well. I'm not sure. I've never done sadism, actually."
Helena Bonham Carter is also currently filming the musical Sweeny Todd, which in addition to Johnny Depp, also co-stars fellow Potter actors Alan Rickman (Severus Snape) and Timothy Spall (Peter Pettigrew). In case you missed it earlier, Helena Bonham Carter made a recent appearance on the Jonathan Ross program earlier this month where she discussed her role as the Death Eater Bellatrix, and joked she had five lines and they cut three of them. There was video of this appearance, but that has now been removed, and we are attempting to find another video of this, so stay tuned!